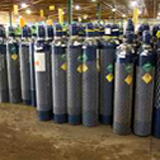 Welcome to Miragas Co., Ltd.
Miragas Co., Ltd is located in Zhucun Industrial Zone, Yichuan Town, Luoyang City, Henan Province. We are a manufacturer focuse on producing, purifying and researching electronic gas, high purity gas, specialty gas and green & ultralow temperature refrigerant etc.
Our products include: octafluorocyclobutane, hexafluoroethane, pentafluoroethane, trifluoromethane, difluoromethane, methyl fluoride, silane, silane mixture, high-purity propane, ETO mixture, ethylene, cylinders and gas related equipments.
With our suppliers on raw materials and final products, we enjoy a very strong position to supply our customers a wide spectrum of products in very competitive price and thorough service, including developing new gas chemicals. with support from our experienced R&D team and production facility, Miragas has successfully exported products to USA, Japan, Korea, India, Indonesia and Taiwan area, and has been a qualified supplier of local public companies.
One of our main strength is the capability on developing new chemicals and Miragas has successfully developed and marketed several new gas products to meet our customers' requirements.
We are ready to satisfy your needs on gas chemicals, CONTACT US now!
Product Overview
Our products includes: C318, R116, R14, R23, R32, R41, CO, Silane, Silane mixture, High-purity propane, Helium, ETO mixture, Ethylene, cylinders and gas related equipments.
More